Have you ever heard of root canal treatment? What is the purpose of root canal treatment?
Root canal is actually a treatment that can help you to save your natural teeth. Root canal treatment is designed to eliminate bacteria from the infected root canal, prevent reinfection of the tooth. When one undergoes a root canal, inflamed or infected pulp is removed and the inside of the tooth is carefully cleaned and disinfected, then filled and sealed.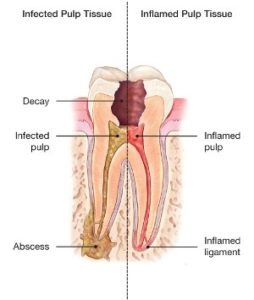 It's very similar to a routine filling and can usually be completed in one or two appointments, depending on the condition of your teeth and your personal circumstances. Getting a root canal treatment is relatively painless and extremely effective. You'll be back to smiling, biting and chewing with ease in no time.
Millions of teeth are treated and saved, thanks to root canal treatment each year, relieving pain and making teeth healthy again.
FUN FACT!
Inside your tooth, beneath the white enamel and a hard layer called dentin, is a soft tissue called pulp. This tissue contains blood vessels, nerves and connective tissue, which help grow the root of your tooth during its development. A fully developed tooth can survive without the pulp because the tooth continues to be nourished by the tissues surrounding it.
HOW DO YOU KNOW IF YOU NEED A ROOT CANAL TREATMENT?
A tooth that needs root canal treatment might or might not have any symptoms at all. However, if you experience symptoms such as lingering pain to hot/cold or sweet, throbbing pain, swelling in the area,spontaneous pain, pressure pain etc., chances are root canal treatment is just what you need.
HOW MUCH ROOT CANAL TREATMENT WILL COST YOU?
Root canal treatment usually will cost you around RM700 to RM1,000. For any complicated/complex cases handled by our specialist, the cost will be from RM1k and above.
For appointment booking / further enquiries, contact us or visit our branch today!!
OUR LOCATION
KLINIK PERGIGIAN 1ST DENTAL BUKIT JELUTONG
2-1-01 D'Vida Jalan Bazar U8/101
Bukit Jelutong, 40150 Shah Alam,
Selangor.
0378596757 / 0122175857 / 01161114972
KLINIK PERGIGIAN 1st DENTAL TAMAN EHSAN, KEPONG
No 2423-1, Jalan E3 6, Taman Ehsan
52100 Kuala Lumpur.
0362748710 / 0122955857

DON'T FORGET TO FOLLOW US ON OUR SOCIAL MEDIA FOR LATEST NEWS, MONTHLY PROMOTION AND MORE!
FACEBOOK PAGE (Bukit Jelutong)